The importance of our volunteers to a range of our services cannot be overestimated. Our volunteers unselfishly give up their personal time to work in one of our services.
Here, you can meet some of our volunteers who all provide integral work in ensuring that our services run smoothly…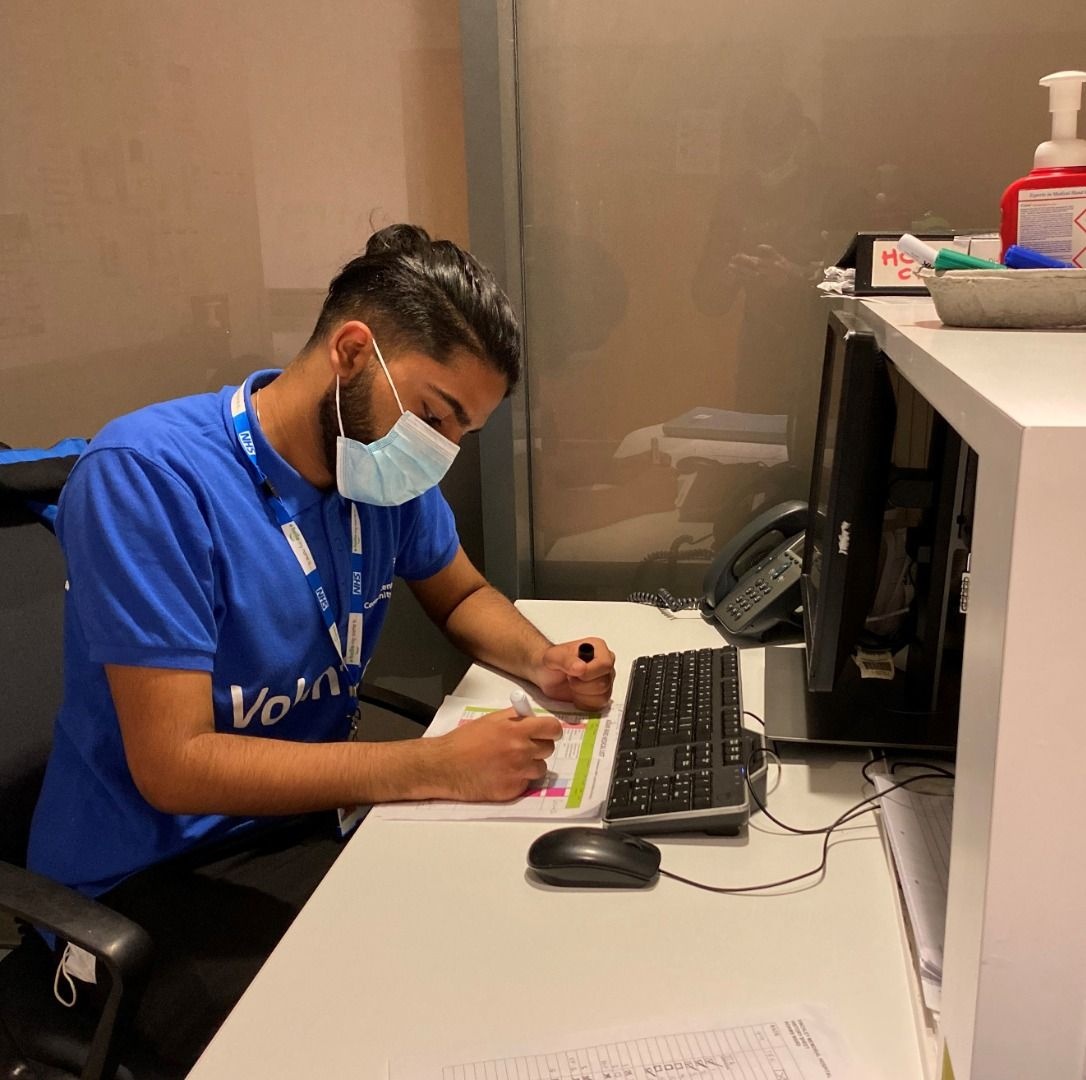 Amir is a ward befriender volunteer at Finchley Memorial Hospital. He says, "Volunteering with CLCH has really opened my eyes to the demands placed on hospitals. Helping the staff, even with small tasks gives me great satisfaction. I know that I am offering support to make the team's day a little easier." Here he tells his story to a member of our team.
Why did you decide to become a volunteer with CLCH?
As somebody who wants to study medicine, I needed to enter the clinical setting to really get a feel for what it is like. This is my first time volunteering with the NHS, and I have always also had this innate feeling to help in a hospital wherever I can.
Whether it's the small things for patients, such as helping to make them comfortable with extra bedding or larger jobs, I am helping anywhere I possibly can. Putting that into action is extremely important to me.
What does your day look like as a volunteer?
It's very interesting, you're constantly learning. From how to conduct yourself with patients and other healthcare professionals, to patient confidentiality and skillsets, I find that every time I volunteer, I'm gaining skills.
Sometimes, you also have to learn on the job and its very rewarding. I have also found that, the more you volunteer, the more you learn, as you build a stronger, trusting relationship with the patients and also with the team.
What impact has volunteering had on you?
I feel like it has definitely matured me. Healthcare is very serious, and seeing patients, as well as getting a real idea of how the staff work endlessly to meet demands, has really boosted my determination to do anything I can to further assist them.
It has also taught me to take on responsibility better and manage my workload. It has also taught me the importance of being personable.
What challenges have you found while volunteering?
At the beginning, I was a little unsure of how to communicate with the patients and make them feel comfortable around me. I spoke with the nurses and they explained to me how I can practice this better; so by being aware of my speech for instance, as some patients are more hard of hearing than others.
I now adjust my tone and my delivery to suit each patients needs, something which CLCH value in their ethos. I think it all comes down to keeping the dignity of the patients.
Would you recommend volunteering at CLCH to anyone you know?
Yes! The CLCH website is very easy to navigate and I would encourage anybody to volunteer at CLCH, because you learn so much.
Being able to learn on the job is not something we are taught at school. Getting first-hand experience makes you realise the lengths the NHS and its staff go through to provide the best level of care for their patients.
What difference do you think your volunteering makes?
Everybody you see in the hospital, from all levels, work so hard for those that need help. As a volunteer, I realised that even for them to have someone like me who is willing to pick up on smaller jobs, it allows for them to be alleviated of some stress. It could give them even a few minutes break, which is really valuable.
It can also get very hectic in hospitals, so having someone like me to help can make that small difference not only for the team, but to the patients I am supporting. It can go a long way.
Whether it is a people facing role or helping behind the scenes, there are lots of opportunities to volunteer, meet new people, and learn something new along the way. Find out more about the volunteering opportunities available here.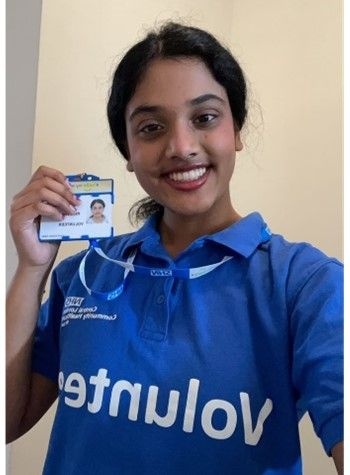 How long have you been a volunteer?
I've been volunteering down in the Phlebotomy Clinic at Finchley Memorial since around February this year, so I actually haven't been there very long at all, but I already feel so connected to that community.
Why did you become a volunteer?
I'm currently doing my A-levels, and I'm hoping to do medicine at university, so volunteering was kind of a perfect opportunity to get to interact with patients and see the behind-the-scenes of an NHS setting.
What does your role involve?
I am a Meet And Greet Volunteer, so I usually am the first person the patients will see, and I guide them towards the reception to sign in for their appointment. I think it really does make a difference, often when they arrive, they tend to be a bit anxious (because they don't like needles), or in a rush and they've left something at home, so I always try to reassure them and calm them down and make them feel a lot more confident. Also, a huge part of the role is deciding what's appropriate with every patient, because some will be more confident and they'll want to have a conversation with you, others will just give you a smile or a thank you, and some will just not really talk to you. So, you sort of have to assess what you should say and do in a situation depending on how they're feeling and acting, sometimes they want to engage with you, other times a simple nod is enough.
What's your favourite thing about your role?
This is hard, I think it would be both the patients and the other healthcare staff there. With the patients, just being able to talk to them and knowing that you've made that day a little easier for them is really nice. Most of them are usually confident and they won't need my help much, but sometimes if they're a little older, or a bit unsure, you can tell they really appreciate your help, even if it's just little things like getting a cup of water for them, or directing them to the washroom, or helping register their car details for them.
In terms of the other healthcare staff, they're so overwhelmingly supportive and kind and just absolutely amazing, I felt like I fit in right away. Especially the wonderful lady who works the reception desk during my shift, she's been just incredible and has guided me through this role and keeps me motivated and excited and we always have lovely conversations which I really look forward to.
What's been your highlight of volunteering this year?
I think the highlight of my volunteering was when this elder couple came in, and they were very quiet and worried, and you could tell that they were a little bit lost and not very sure what do. So, I approached them, started talking to them and walked them to where they needed to go, and by the end, they just seemed much happier and very thankful. I felt like I had made their day a little better and a little easier, which was very rewarding to see.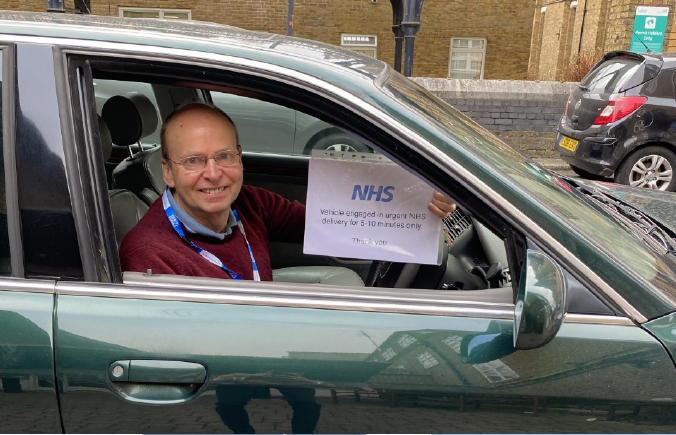 Paul is a volunteer driver for Pembridge Hospice.
Volunteering with CLCH has allowed me to apply my driving skills towards an important cause. To serve creative materials to those who are in a perhaps lonely and isolated state really fills them with joy and helps drive them through their treatment.
How did you find out about volunteering with CLCH?
I looked online. I live in South West London and I was looking to do some volunteering with the NHS, with a skill that I had. I enjoy driving, so I wanted something where I could apply this. The website was easy when it came to finding out information about volunteering.
Why did you decide to become a volunteer with us?
I have done a lot of volunteering in my past; I am a running coach and I volunteer at my club a few times a week, however, with the NHS, I wanted to volunteer somewhere substantial and where it was somewhat more rewarding.
I noticed that CLCH were looking for volunteers and I thought it would be a great chance to support the hospice. Being a palliative care unit, the idea of helping those in such a sensitive state is very important to me.
What volunteering work to you do at Pembridge Hospice?
So I deliver art and crafts kits, which I drop to the homes of our patients. I can have upwards of 25 deliveries each day, all within West and North West London. Due to Covid-19, face to face interactions were reduced, unfortunately, so these kits enable them to still feel part of a community.
Patients also send in their works, which we then share. It's really important to keep this community feel amongst us, and I think we achieve this well. We want everybody to feel valued and appreciated, no matter their circumstances.
How is volunteering with Pembridge Hospice different?
As I mentioned, I have done a fair bit of volunteering in my past. But what is different here is the fact that I am working to support people who are really in need, and it has opened my eyes to realise how much of a difference I am making to their lives, and that is very rewarding, it keeps me going.
It drives me to be more efficient in delivering these packages to patients who cannot come into the Hospice. We know how much of a difference it makes to their daily lives.
Would you recommend volunteering at CLCH to anyone you know?
Most certainly! If you can make the time, then I would really recommend it. It is very worth while to help CLCH keep providing better services. It is also giving back to the community, and there is great satisfaction that can be gained from that.
What difference do you think your volunteering makes?
With what I do, especially, I think it makes a huge difference in ensuring the services that CLCH run here at Pembridge are still efficient. The problem with Royal Mail, for instance delivering for us, is that sometimes there are delays or they get lost. However, with me, I ensure everything is delivered to a tight time frame, so nobody misses out on this great service. It's the certainty and confidence we can guarantee.
Volunteers offer that extra hand that the NHS needs, especially during these tough times. We offer compassion and genuine care and that in itself goes a long way.